I just saw this on Bleacher Report and a lot of these picks echo my thoughts as well. Wanted to see what you guys thought. He lists a Plan and a Plan B for each round.
Round 1, No. 1

Plan A-Z — Andrew Luck, QB, Stanford — Winning starts with the quarterback, and for the Colts, this is an easy call.
Round 2, No. 34

Plan A — Coby Fleener, TE, Stanford — With this pick, you'd reunite Luck with a trusted target and fill a big need position in one swoop. Fleener's stock is hot enough that this may not happen, but he shouldn't get past Indy in any scenario.

Plan B — Devon Still, DL, Penn State — The Colts have so many needs in Chuck Pagano's defense, but the defensive linemen make everything else go.

Cory Redding will help the transition, and he can mentor Still if he falls out of the first round. A cornerback and wide receiver could also be a good option in the early second that represent a good mix of need and value.
Round 3, No. 64

Plan A — Jared Crick, DL, Nebraska — Without a torn pectoral, Crick might be knocking on the door of the first round. He plays with the natural intensity necessary to make an impact in the trenches.

Plan B — Brandon Boykin, CB, Georgia — Boykin is a second-round prospect, but his broken fibula from the Senior Bowl could send him into the third. His aggressiveness and return game ability will be an instant help.
Round 4, No. 97

Plan A — Josh Chapman, DT, Alabama — The Colts should keep their fingers crossed that Chapman's torn ACL makes this prospect fall to the beginning of the third day.

Plan B — Lardarius Green, TE, La-Lafayette — Green's size and speed combination makes him a natural fit in the pass offense as a receiving tight end.
Round 5, No. 136

Plan A — Ryan Steed, CB, Furman — The Colts have the time to develop a small school corner like Steed. His ceiling isn't far off of prospects that will be taken rounds earlier.

Plan B — Josh Norman, CB, Coastal Carolina — Another small school talent at corner, Norman can be given time to polish his game. Norman was also the star of the East/West Shrine Practices.
Round 5, No. 170 (Compensatory)

Plan A — DeQuan Menzie, CB, Alabama — Menzie isn't as well-known as teammate Dre Kirkpatrick in draft circles, but he should become an excellent nickel corner.

Plan B — Hebron Fangupo, DT, BYU — If the Colts don't address nose tackle earlier in the draft, the underrated Fangupo would make an excellent anchor in the middle of the line.
Round 6, No. 206 (Compensatory)

Plan A — Dale Moss, WR, South Dakota State — I'd love to see what Andrew Luck could do with a raw prospect like Dale Moss who has speed, size and ups.

Plan B — Joe Long, OL, Wayne State — He's not his brother, Miami Dolphin Jake Long, but who is? Long has versatility and could push for a job at right tackle or guard if he develops well.
Round 7, No. 208

Plan A — Ryan Miller, OL, Colorado — Miller's versatility and overall quality would make him a welcome late addition.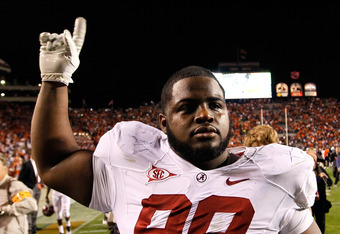 Josh Chapman would be a perfect anchor for the defensive line of Chuck Pagano's defense.
Kevin C. Cox/Getty Images

Plan B — Brandon Bolden, RB, Ole Miss — Bolden has underrated speed, natural size and good hands. He could push for a roster spot and potentially get touches with the Colts sub-par backfield options.
Round 7, No. 214 (fromJacksonville via NY Jets)

Plan A — Akiem Hicks, DL, Regina — This boom-and-bust defensive line prospect is perfect for a rebuilding team switching to a 3-4/hybrid look from a Cover 2.

Plan B — Jeremy Lane, CB, Northwestern State — The more competition there is at corner, the better it is for the Colts.
Round 7, No. 253

Plan A — Foswhitt Whitaker, RB, Texas — Whittaker would be a perfect utility back and return man for a backfield that lacks a third-down option.

Plan B — Aaron Corp, QB, Richmond — When in doubt, it's always OK to take a developmental QB.